I liked our hotel for a variety of reasons, but mainly because they gave out free chocolate chip cookies, which made a nice breakfast on the go.
After packing up and leaving our hotel in downtown Vancouver, we drove through the Gastown district of the city to see the sights, including a steam-powered clock.
I had seen that Arc'teryx, a high-end outdoor clothing brand, has a factory store at their headquarters in North Vancouver, so we crossed the river near the shipyards and headed to the store in hopes of finding some good deals. Unfortunately, the prices were still sky-high, so it was a disappointing trip.
We drove east and south back to the border, and crossed at a much smaller crossing than where we came across two days ago. It was extremely nice to be back in MPH instead of kilometers per hour. Our next stop is definitely low on the list of tourist attractions: the City of Granite Falls, Washington. Of course, we had to stop, and Dad wanted to meet the town staff and introduce himself. He even wore his Town of Granite Falls shirt. They said that they get water bill payments from people in Granite Falls, NC all the time, and they were glad to finally meet someone from their NC counterpart.
We met two of the town clerks and the town manager/public works director. Even though Granite Falls, WA is similar in population to our GF, they only have 8 employees for the entire town and do not provide many services because they contract out most services. We have now been to 2/3 Granite Falls in the US. The other is in Minnesota, so stay tuned for our invasion of their town hall in the near future.
By this point, we were all extremely hungry because the mini chocolate chip cookies were long gone, so we drove towards the waterfront to the famous Pike Place Market. The market is packed with crafts, restaurants, produce, and specialty goods. Truthfully, we could have spent several days exploring the market and all its many shops, but we had to settle for part of an afternoon. The market itself is several stories tall, and is surrounded by a variety of other stores and restaurants.
We ate at Lowell's, a well-known seafood restaurant in the market. Dad and I got a mixed seafood grill with a salmon filet, tiger prawns, a Dungeness crab cake, mixed vegetables, and rice. Mom got fish and chips. The meal was delicious, but Mom said the fish and chips weren't as good as Red Fish Blue Fish in Victoria. You could definitely tell everything had an Asian influence, which is typical of the Seattle area.
After we finished eating, we walked around the market, exploring various stores and rounding up free samples. Some of the interesting things we saw/tried were: lots of meats and cheeses, enormous fish and prawns, oils and vinegars, preserves, honey, apple cider, produce, and breads, plus arts and crafts. I also saw someone take a flying fish off the face, which was hilarious.
Though our meal was delicious, we didn't get very much food for the money (or maybe we were just really hungry because we hadn't eaten in a long time), so we decided to seek out some dessert. We stopped at Daily Dozen Donuts, a shop that makes small donuts fresh to order. We ordered a dozen to split, which was more like 15 donuts, which included a variety of cinnamon sugar, powdered sugar, and maple bacon. The cinnamon sugar were the best by far, and were outstanding. It took an act of sheer willpower to not go back for seconds.
Beecher's Handmade Cheese
Across the street from the market was Beecher's Handmade Cheese. You can tell by the name that it was going to be a good time. They make cheese, of course, and also have homemade mac & cheese and something called a breadzel, which is a wheatberry bagel/pretzel sort of thing with cheese and herbs on top. We split a cup of mac & cheese and a breadzel. I'm not usually much on runny mac & cheese, but I have to say that the flavor was absolutely incredible. At this point, Mom was full, so Dad and I were pulling the weight on most of the food. We also snagged some cheese and curd samples on our way out.
Seattle Monorail // Space Needle
Seattle has a monorail, the first ever built in America, that runs through the downtown three stories above street level. We parked in a parking garage and took the elevator up, which much to our surprise emptied into the handbag section of a Sak's 5th Avenue Off 5th store. We rode the monorail to the other terminal and back–a relatively quick ride–and saw a few of the sights in the city.
Enough time had passed that we were beginning to get a little hungry again, but rather than eating a meal we opted to seek out dessert. Dad and I stopped at Top Pot Donuts, a place known for their old-fashioned style donuts. As soon as we entered, I immediately recognized the place from a Food Network show I'd watched several years back. We got an old fashioned, a maple old fashioned, and a chocolate cherry blossom, all of which were excellent. We saved the maple for a snack sometime tomorrow.
Tacoma // Ice Cream Social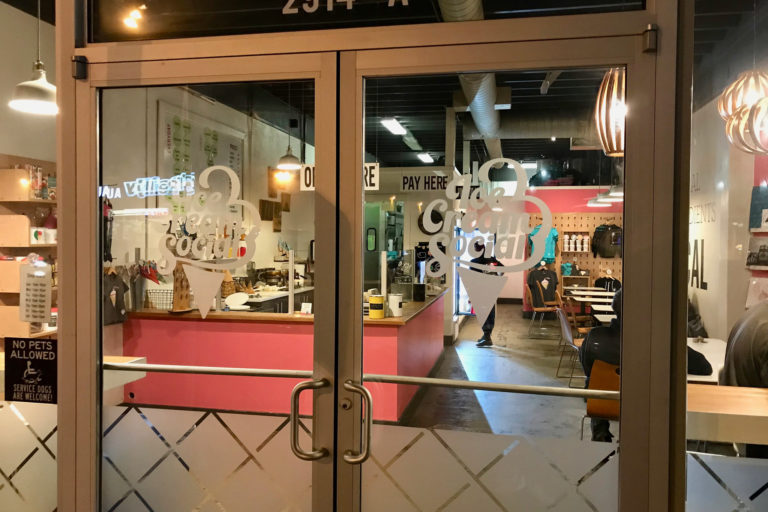 Once in Tacoma, we stopped at Ice Cream Social so Mom could get some ice cream. Dad and I each got the smallest size they had available, and it was a pain for us to finish the ice cream. I thought the ice cream was good but nothing spectacular, but the homemade waffle cones (the only option at the shop), were amazing. We got mixed scoops of a few flavors, including lemon gingersnap, cherry almond, mint chocolate chip, butter pecan, and salted caramel.