I love donuts. I love that no matter where you go across North America, you can find consistently wonderful donuts, even if you're somewhere people are so ignorant about food that they think barbecue is a verb instead of a noun.
Vancouver might not know much about barbecue, but they certainly have a plentiful share of excellent food from around the world.
After getting in to our hotel rather late, we slept in a bit this morning. Dad and I walked around the block from our hotel to a donut shop called Cartems and purchased a half dozen to go. Meanwhile, Mom got ready in the hotel room. Cartems offers traditional and unique flavors, and packages their donuts in a unique oblong box.
Our half dozen consisted of vanilla, chocolate, salted caramel (cake), orange guava, citrus, and one specialty donut, the 'Tropical Pom' that had a pomegranate creme filling, mango icing, and was drizzled with lime and raspberry drizzles. All the donuts were great, but our favorites were the orange guava, and the tropical pom.
Point Atkinson Lighthouse
Our first stop was the Point Atkinson Lighthouse, which is northwest of the city between West Vancouver and Horseshoe Bay. It was a lot longer walk to the lighthouse than my guide suggested, so Dad and I walked nearly a mile to the light while Mom waited in the car. We did FaceTime her the view once we finally made it to the bottom of the point.
The hike up the hill back to car was exhausting, so we opted to skip a few overlooks for the time being and head further north into British Columbia.
We hopped on the Sea To Sky Highway and started our journey north. Porteau Cove offered a decent view, but most of the best overlooks were on the opposite side of the road, so we would have to hit them on the return journey.
Our next stop was Shannon Falls, a 335-meter (1,099 feet) waterfall that is one of the highest in Canada. The falls are very close to-and visible from-the highway, but some of the viewpoints required quite a steep hike. Shannon Falls marked the beginning of significant snow, as marked by a partially blanketed river. The falls thundered down from such a height that it hurt my neck to find the top.
Mom is on a roll with agreeing to normally unusual travel plans. We stopped at Sea To Sky Gondola, purchased a ticket, boarded the car, and headed up the mountain to the Summit Lodge. Mom was horribly nervous on the way up, while Dad and I laughed about it.
The weather was significantly colder and snowier up top, and on our way up we were constantly going in/out of-and above-clouds. The gondola ride was actually extremely smooth, especially compared to the others I've ridden in the Alps and at a golf course in Myrtle Beach.
Atop the mountain, we enjoyed spectactular views, and suspensefully balanced on a suspension bridge across to another observation area.
We ate lunch at the lodge cafe, which consisted of a ham and cheese crêpe, seafood chowder, and Swiss fondue with bread and apples. It was an outstanding meal, and far better than I expected for a mountaintop lodge. The fondue and chowder were particularly good.
After lunch, the weather cleared up a little bit, and gave us some even better views.
The suspension bridge was actually not very wobbly either, but the wind factor was brutal. Mom was not about to set foot on it!
The mountaintop excursion was long (and terrifying for some of us), but it was a very fun experience. Once back at our car and on the ground, much to Mom's delight, we decided to head back towards Vancouver for sake of time.
Once we crossed the Lion's Gate Bridge back into Vancouver, we made a quick stop at Stanley Park, a small knob that sits on the north side of the city, connecting it to West Vancouver. We drove the loop around the point, stopping at several more overlooks, a giant hollow tree, and a lighthouse along the way.
Granville Island PUblic Market
By this time it was high time for food, so we drove to another knob on the south side of the city, Granville Island, to go to the Granville Island Public Market. The market has an unbelievable selection of all kinds of groceries and goods, including many things I'd never even heard of.
Vancouver seems to be a city filled with international cuisine, including things I've never even seen in NYC. The market also offers plenty of food stand options, including some international, so we picked up a conglomerate of things for supper. First, we split two slices of pizza, a Hawaiian, and a creamy tomato cheese.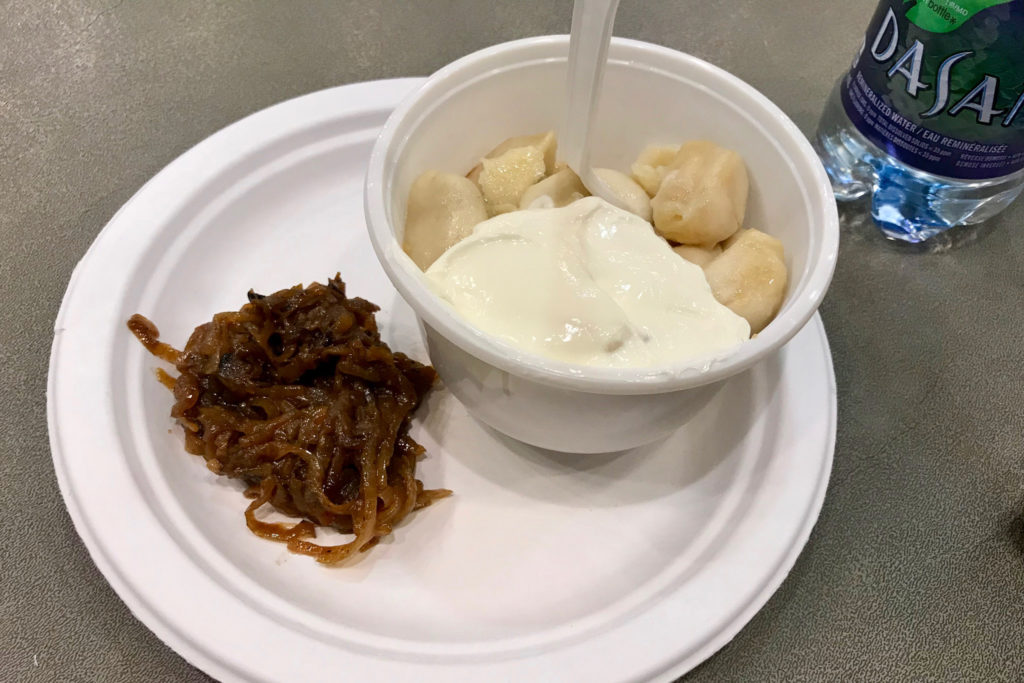 We then walked around and explored the market for a while, stopping often to investigate items of interest. Now even more hungry, we picked up dessert first, and then walked back towards the food stand section and each got something else for dinner.
I got cheese and potato pierogis, Mom got a sandwich from a German deli, and Dad got enchiladas from a taqueria. For dessert, Dad got a chocolate eclair, Mom got some granola, and I got a mini maple cheesecake. The were all excellent, but we all agreed my cheesecake was especially good. The food was good as well.
The market was lots of fun to explore, and I wish we'd had more time to peruse the shops, but we were unfortunately cut off at closing time.
After supper, we headed back to Stanley Park to catch a view of the city at night.
Exhausted, we opted to retire to the hotel quite early, so we will hopefully be well-rested for our return to the States tomorrow.