Today, May 24, marks my twelfth day in Poland, and my fourth day in Kraków.
Since yesterday was such a long day, we took part of the morning to sleep in and recuperate. We met in the hotel dining room at 8:45 for a quick breakfast, and after asking for directions from the hotel desk clerk, we walked across town to the Wawel castle, where we briefly visited our first day in Kraków.
We didn't get to tour anything at the castle a few days before, so we decided to spend the morning seeing the exhibits. We waited in line about an hour for tickets, and finally got our passes and walked up the hill, through the gate, and into the main exhibit. We bought tickets for three exhibits: the armory and treasury, the state rooms, and the Leonardo DaVinci painting exhibit.

We began with our tour of the castle's armory and treasury. Photography was not allowed in this exhibit, so I have nothing to show you, but what I saw was wonderful. We saw many valuable historical artifacts that belong to ancient Polish kings, as well as a variety of valuables that were from newer dynasties of Polish rulers-all the way up until the 1800's. The armory contained a variety of weapons ranging from medieval gear to flintlock firearms to commissioned decorative cannons.
After our trip to the armory, we journey upstairs in the castle to tour the state rooms. This included the throne room, ball room, grand staircases, visiting rooms, and more. The most notable part of this tour was by far the grand tapestries in the rooms on the top floor. Many depicted Biblical scenes, including five extremely large tapestries that told the story of Noah's ark. Other tapestries depicted hunting scenes, battles, and more.
Many of the walls were covered in decorative leather, which was awesomely well-crafted. There were a few nice wooden floors as well, but sadly, I was not able to add them to my picture collection because photography was not allowed in this part of the castle either.
After we finished our castle tour, we strolled across the parapet of the castle to an exhibit with Leonardo DaVinci's painting Lady with an Ermine. While I actually was slightly underwhelmed by the beauty of the painting, it was impressive to see a painting that was so old (1490) and by such a famous artist.
After we finished viewing the painting, we headed back down to the main courtyard of the castle. By this time, it was about 12:45pm and we had not eaten lunch, but we opted to forgo eating for a while and finished everything we wanted to do at the castle. We grabbed a quick snack at a food stand in the castle. I got a Polish cream cake topped with powdered sugar, which was excellent.
After we finished our snack, we went to a different ticket house and purchased admission tickets to the Wawel Cathedral, in which many ancient Polish kings are buried. The church was beautiful, but once again, photography was not allowed, so I have no pictures to show.
The cathedral is made up of a main sanctuary, with smaller chapels branching off of the sides of the main sanctuary. Each of these chapels is dedicated to a different person of significance to Poland's history.
Dinner - Corleone Restauracia
After we finished touring the cathedral, we briefly stopped at the castle gift shop, and then headed back toward the main market square to eat a late lunch. By now, it was around 2:30pm. After being turned away at several restaurants that were too crowded, we found an Italian/Sicilian restaurant called Corleone Restauracia. I ordered goose ravioli with fresh spinach leafs stewed on garlic and butter, which was outstanding.
When we finished our lunch, we walked to the main market square and purchased tickets to tour St. Mary's Basilica, which was the former church where Pope John Paul II resided. It was likely the greatest feat of architecture and design that I have or ever will see in my entire life. Words cannot do it justice, so I'll simply show some pictures.
After touring the Basilica, we headed back to the main market square and shopped at the vendors for a while. We also stopped back at the waffle stand and bought dessert; I got a waffle with dark chocolate sauce. We browsed the shops for a while (I almost purchased a red fox fur hat but regrettably decided against it), and finally began to head back toward our hotel.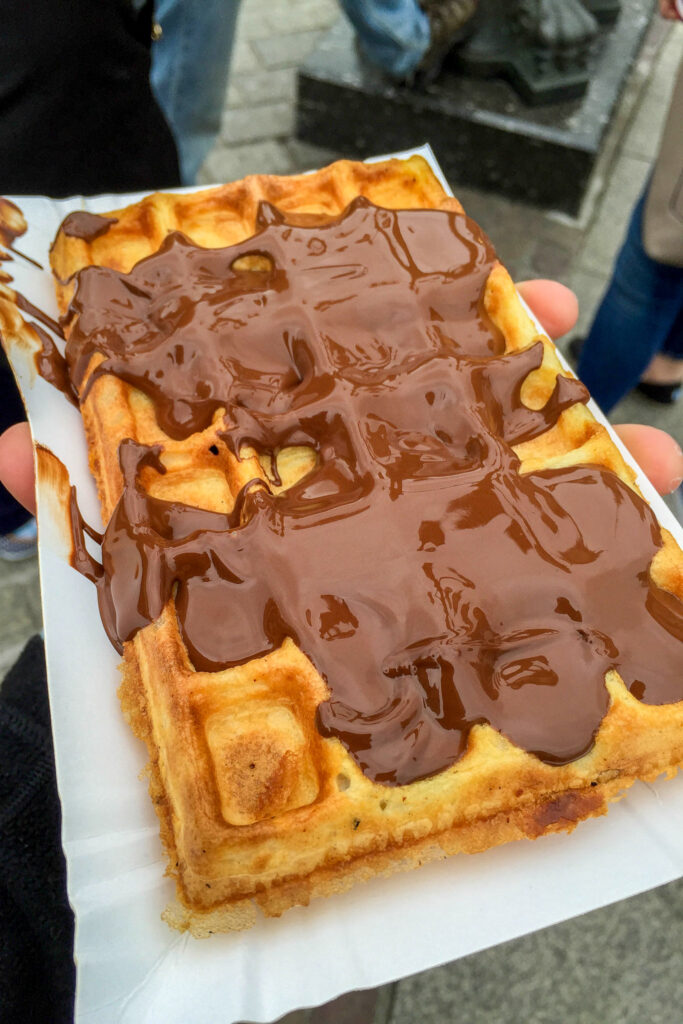 On our way back, we stopped to look at some paintings at the gate of the city. The were unbelievably well done and not very expensive, so we all purchased at least one. We stopped at a convenience store and grabbed some drinks and breakfast for tomorrow morning, and then we finally ended our day by sitting and talking near our hotel and then retiring for the day.