If I were to have a superpower, I think it would be finding cheese stores and bakeries (or donuts shops) in strange places. Today I managed to put my powers to good use as we headed a couple hours drive east to explore the northern part of Oregon's coast.
But first, let's talk about breakfast.
We headed to a place on the northern side of the city called Pine State Biscuits. Three guys from NC who moved to Portland were homesick for biscuits, so they decided to start a food truck at the farmers' market that eventually evolved into three restaurants.
Once again, we had a case of eyes-bigger-than-stomach at breakfast (seems to be a trend, but hey, who doesn't adore breakfast food?). We can also plead ignorance, because to be fair, we didn't realize everything on the menu was double the size one would expect.
I got a biscuit with sausage gravy; Dad got the "Reggie Deluxe", a biscuit sandwich with chicken, bacon, sausage gravy, cheese, and an egg; and Mom got a biscuit with honey and apple butter, an egg, and sausage.
After breakfast, we sluggishly dragged ourselves back to the car and drove west of Portland through Tillamook State Forest towards the coast. We stopped at Tillamook County Creamery to tour the facility and, of course, sample some products. They had a very interesting exhibit talking about the entire dairy process, and I learned a lot.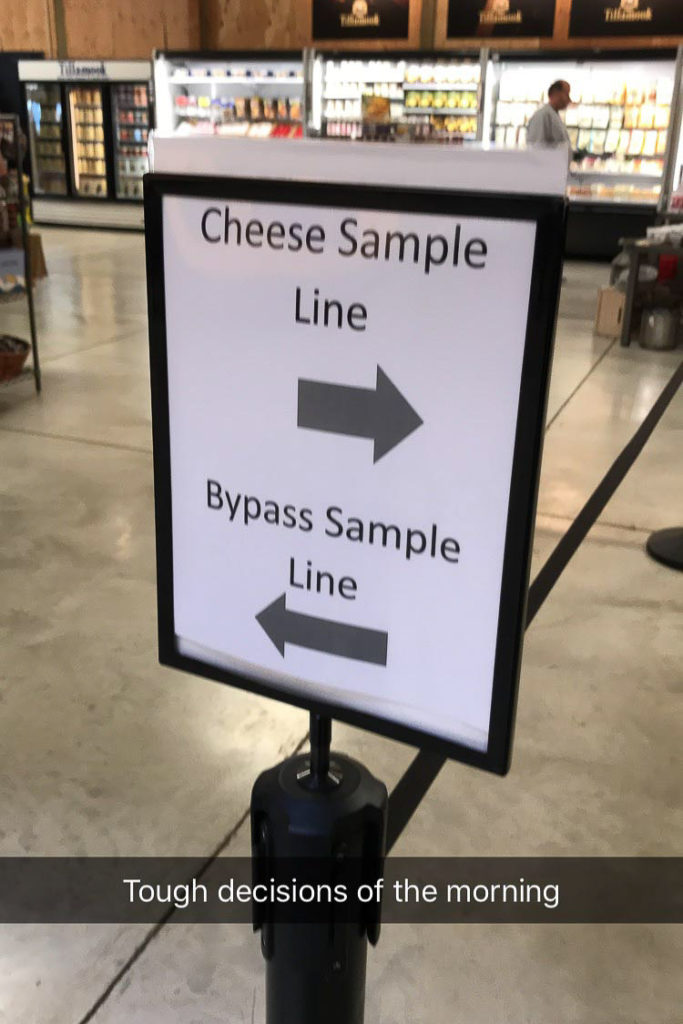 We sampled some cheese, and decided to get some small ice creams and postpone lunch for a while. I wish I could have brought several pounds of cheese back with me. Mom got Oregon dark cherry and Oregon strawberry ice cream; Dad got Tillamook mudslide (lots of chocolate stuff) and caramel buttered pecan; I got Tillamook mudslide and sea salt honeycomb toffee. This was THE BEST ice cream I've ever had. By a long shot. We weren't even hungry from that gigantic breakfast, but I didn't even care.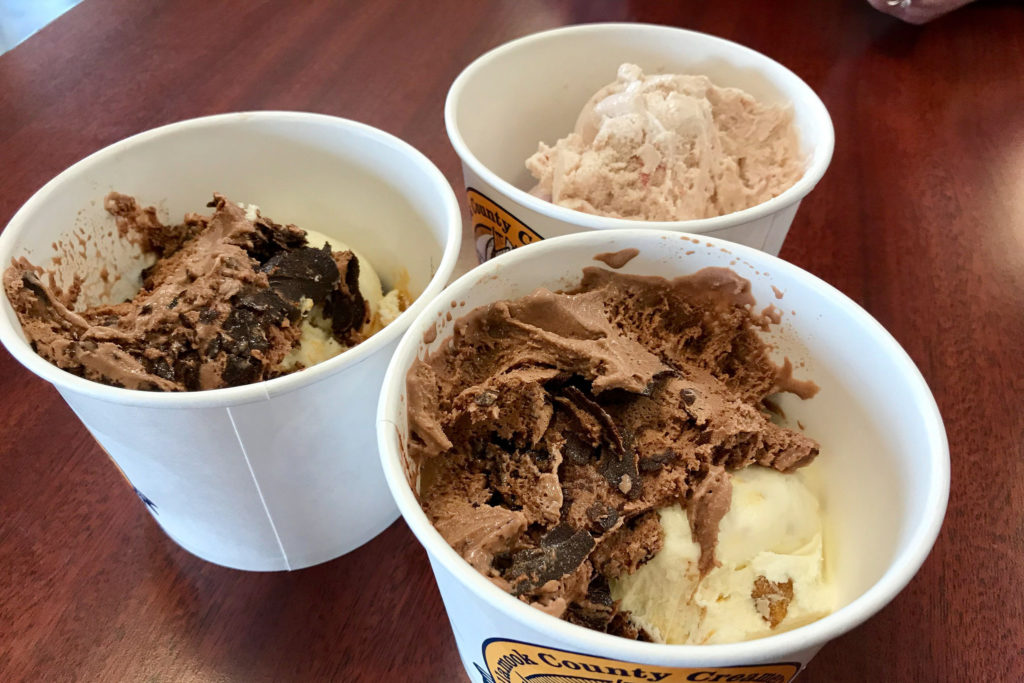 Manhattan Beach State Park
Disappointed from our failed lighthouse excursion, we decided to head to another nearby location, Manhattan Beach State Park. It was relatively flat and uneventful, but still beautiful, and we walked down to the ocean for a while.
Next, we stopped at several overlooks along the Oregon Coast Highway, pausing to take some pictures and enjoy the scenery.
We rolled into Cannon Beach, the home of famous landmark Haystack Rock. It was quite a long walk to get to the beach, so I ran down and snapped a couple quick pictures, and then we moved on.
After descending to Cannon Beach, we reascended to Ecola State Park, just north of the city. The park has stunning views of the beach below, as well as several waterfalls that plunge into the ocean below. We enjoyed the views, and I hiked around for a bit before we left to find an afternoon meal.
We stopped for food in Seaside, OR, at a place called Norma's Seafood. Mom got a mix of scallops, halibut, and prawns; Dad and I split a crab sandwich with Tillamook cheddar and a seafood platter with prawns, halibut, salmon, squid, oysters, and razor clams. I got a cup of chowder (the best thing I ate today), and Mom and Dad each got a side salad (which came with shrimp on top). Dad's salad came with a huckleberry vinegarette, which was very unique and tasty.
Conclusion // Day 8 preview
On the way home, we stopped at a Safeway back in Vancouver and managed to find the chocolate ice cream we'd been searching and longing for, to Dad's great delight. We took it back our hotel and enjoyed a bit of it before heading to bed for the night.
Tomorrow, we head for the Mt. Hood area, and explore the Columbia River Gorge. Supposedly, there are many waterfalls to behold. Tomorrow night we take the red eye back to Charlotte, so I likely won't get tomorrow's blog post up until later.