Today, we'll explore Italy's Aosta Valley (Valle d'Aosta) and Gran Paridiso National Park (Parco Nazionale del Gran Paradiso). It was a day of waterfalls (cascate), hiking, and grand views. Today is the 5th day of our European adventure, and our first full day in Italia.
This morning, we awoke in our apartment, La Roche, and headed over to the dining room for breakfast.
After checking out of our hotel, we departed the city of Aosta down SR47 to the Pont d'Aël, a Roman aqueduct built in 3BC to provide water for the new Roman colony of Augusta Praetoria, which is now Aosta. Pont d'Aël is one of three remaining intact Roman bridges in the Aosta region. The Torrente Grand' Eyvia flows under the bridge. We paid a small entrance fee, walked across the aqueduct, and then back through the inside of it on a glass floor.
Parco Nazionale del Gran Paradiso
Continuing past Pont d'Aël on SR47, we traveled to the village of Lillaz in the Cogne Valley to visit the Cascate di Lillaz in Gran Paradiso National Park (Parco Nazionale del Gran Paradiso). This three-stage waterfall totals 240m (787′). The river Torrent de Valeille feeds the falls. It's quite amazing how the Italians have built roads and tunnels to even the most remote part of the mountains.
Next, we left Lillaz and drove back down to Aosta. Aosta is the capital and largest city in Valle d'Aosta. The city is full of Roman ruins and history, so we walked around the downtown for a while, and stuck our heads in a few shops. It was very difficult to find parking, but once we did, it was free – a huge plus around here. Apparently any space with white lines is free, while blue-lined spaces require validation (at least that's what I gathered from having a Google Translate-facilitated conversation with a woman who only spoke Italian).
Flag

The Aosta Valley (Valle d'Aosta) is region of Italy that borders the Swiss canton of Valais on the north, and the French region of Auvergne-Rhône-Alpes on the west. Valle d'Aosta is one of five Italian regions granted governing autonomy by the constitution. The Italian government did this in an effort to protect cultural and linguistic minorities, and to prevent secession after WWII. The region has only 128,000 inhabitants.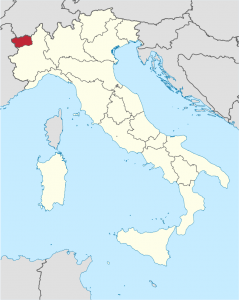 The region's official languages are Italian and French. However, much of the population speaks Valdostan (Valdôtain), which is a dialect of Franco-Provençal (a.k.a. Arpitan). Franco-Provençal is considered an endangered language.
Coat of Arms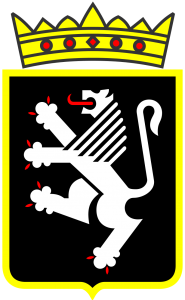 Soon, it was time for lunch. We went to La Bottega Degli Antichi Sapori, a restaurant we'd spotted the night before. We ordered some ravioli stuffed with some kind of spiced meat in a fontina cheese sauce, a caprese salad, and tagliatelle with local pork, parmigiano reggiano, and a buttery sauce. The food was incredible, and we thoroughly enjoyed the meal. 
After lunch, we walked down the street to Gelaty to get some gelato. It was incredible, and we enjoyed it as we walked around the town a bit longer.
Leaving Aosta, we drove west to the village of La Joux in the town of La Thuile to see the Cascate del Rutor. Cascate del Rutor is the highest waterfall in Italy, thundering down 700m (2,296′) in three stages. It's fed by the Rutor glacier.
Unfortunately, the trail to the waterfall was closed due to avalanche danger. Disappointed, we turned around and drove back down the winding road towards Mont Blanc.
Leaving Aosta, we headed underneath the mountains and drove through the Mont Blanc Tunnel into République Française.
We arrived at Hotel de L'Arve in Chamonix, France around 17:15, and immediately enjoyed some afternoon tea and house-made baked goods in the hotel lobby.
We took the remainder of the evening to explore Chamonix. The sunset was beautiful, as was the scenery. We went in a few stores, grabbed a croissant and a chocolate croissant from a local bakery for a snack, and then headed back to our hotel for the evening.