Liechtenstein (abbreviated "FL" for Fürstentum Liechtenstein) is a micro-country, and it certainly reflected that. It was small and somewhat charming, but after we'd walked around the downtown [downcountry?] we felt like we'd seen the whole country. We basically had.
The Principality of Liechtenstein is a constitutional monarchy ruled by the Prince of Liechtenstein. This micro-state has an area of just over 62mi2, and has a population of just under 40,000. The country became a principality in 1719, though the ruling princes rarely visited. Franz Joseph II became Prince in 1938, and was the first 'prince-in-residence'.
Like Switzerland, Liechtenstein remained neutral during World War II, though it provided safekeeping for the national treasures of Eastern European Allies during the war.
Red House // Schloss VAduz
There's always something to do in the Alps, though. We drove up the mountain to the Prince's residence, the Schloss Vaduz. Along the way, we stopped to take a picture of Liechtenstein's famous Red House.
Finally, we reached the castle.
After hiking around a bit, we concluded our tour of this tiny country, and proceeded to a much larger realm: Austria.
Driving north through the city of Schaan, we turned on Feldkircher Strasse to head to our second  country, this time only a short ~15 minute drive away: Austria (Österreich).
We drove to the medieval town of Feldkirch, which is in the Austria's westernmost state, Vorarlberg.

Flag
The Austrian state of Vorarlberg is the westernmost region of the country. The state is completely mountainous and is knicknamed "Ländle", or "small land". The region, along with Liechtenstein, speaks a very distinct dialect of German. Locals dress is called tracht, which consists of a traditional white alpine robe called a Juppe, a cap, jacket, and stockings.

Coat of Arms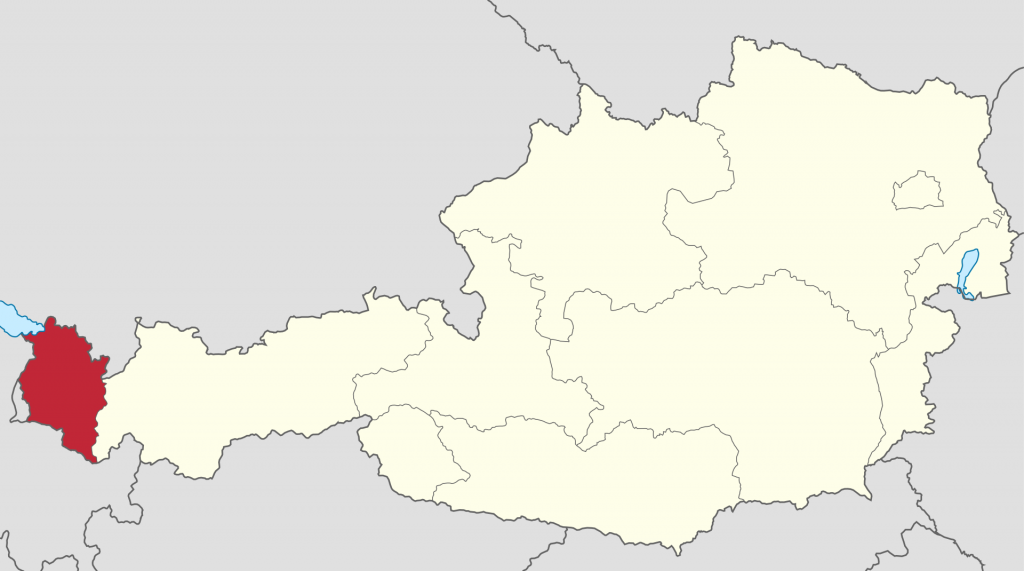 Cafe-Konditorei Feuerstein // Josef Schertler Bäckerei Konditiorei
By now, it was time to find some lunch. Wanting some Austrian food, rather than choosing to eat at one of the city's many international restaurants, we walked around trying to find a local place. All we found, unfortunately, was a street vendor selling very delicious-smelling baked goods, which I made a mental note of for later in case we wanted a snack or some dessert.
Finally, we came across a small chalkboard sign outside of a cafe that advertised a lunch special with schnitzel [the favorite treat for little girls and boys to eat], so we bravely headed inside Cafe-Konditorei Feuerstein. The waiter spoke some English, but the restaurant had no menu, and all the clientele seemed to be locals: a good sign, but a little unnerving.
When asked what we wanted, we ordered two schnitzel specials (after all, it was the only thing we knew was on the menu). The server seemed to accept that as an acceptable answer, and brought us a delicious lentil (and definitely some ginger) soup to start, and then brought the main course of schnitzel with potato salad/lettuce covered in a slightly tangy vinegarette. The meal was delicious, and very inexpensive as well. I can see why it's a local staple.
After lunch we stopped back by the bakery, of course. I got an apfeltosche, and Faith got a cheese pastry.
After lunch, we hiked back to the car, and drove back into Switzerland to the Appenzell region (Appenzellerland) – about a 40 minute drive on narrow roads that wound through forests and pasture.

Coat of Arms – Appenzell Innerrhoden
The Appenzell region of Switzerland is split into two half-cantons: Catholic Appenzell Innerrhoden and Protestant Appenzell Ausserrhoden. As you might guess, the canton split during the Reformation in the 16th century.
Both areas are known for being rather old-fashioned. In 1991, Appenzell Innerrhoden became the last canton to grant women the right to vote.

Coat of Arms – Appenzell Ausserrhoden
We'd originally planned to take the cable car up Ebenalp, but it was too cloudy to have a good view from the top, so we decided to pass. Since we mainly traveled through here as a scenic bypass, we stopped on the side of the road to take a few pictures, rode through the town for a bit, and then went on our way.
Our next destinalion, the city of St. Gallen, is a ~20 minute drive north of Appenzell. St. Gallen is famous for its abbey (Fürstabtei St. Gallen), which has a beautiful chapel, library, and vaulted cellar.
Coat of Arms
The town of St. Gallen was originally settled as the Abbey of St. Gall. The Abbey, built in 719 AD, still stands, and houses one of the most important collections of medieval books in the world. The library also has some of the only surviving architectural drawings from that time, and has a collection of documents depicting neume, which is how people recorded music before the five-line staves used today.
After struggling to find some parking [and the Abbey], we finally found our way. We walked in the cathedral, and contemplated going in the library, but the admission price seemed very high, and it was nearly closing time (17:00), so we went on our way.
In Konstanz, we visited two churches (Sankt-Stephans Kirche and Konstanzer Münster)​ and the lake.
Flag
The city of Konztanz sits on the border between Germany and Switzerland, and has a population of ~88,000. The earliest traces of settlement come from before 6000 BC. The Romans called their settlement here Drusomagus. The city is largely a university town.
Coat of Arms
The city held the Council of Constance from 1414-1418, during which Czech reformer John Hus was burned at the stake in 1415.
During World War II, the city wasn't bombed by the Allies because it left its lights on, pretending to be a part of Switzerland.
We ate dinner in the city square at Cafe Münsterhof. We ordered Vorspeisenteller Münsterhof (mixed appetizer plate), and then each got Paar Wienerle mit Linsen und hausgemachten Spätzle (a regional dish of sausages served with lentil gravy and spätzle, and eggy grated paste).
Thanks for following our trip so far; we're glad you could tag along with us! Today was our last day in Switzerland; we fly home tomorrow and should arrive in the US around 14:00, and in CLT around 16:40. This trip has been wonderful so far, but we do miss home, so it's a bittersweet goodbye.
Even though it rained almost all day today, it was still fun to visit some new countries.
Hopefully, we'll do a wrap-up post sharing our final thoughts on the trip, tell about our favorite moments, and maybe even include a few videos we've taken.
Delay
Sorry this post was delayed. If you read tomorrow's post, you'll understand why.