It all started when Cody (my former roommate for several years) and I were in an honors strategic management class. Our professor was talking about
product differentiation
, and said there were some industries in which brands could not differentiate themselves from their competitors. He gave water as an example, claiming that all bottled water is essentially the same.
Of course, Cody and I were infuriated. As athletes, we have consumed our fair share of water (and Gatorade, but that's a story for another time), and we very adamantly believed that all water is NOT created equal. Thus, our water taste test was born.
We collected water for a good while, storing it until we could finally find time to conduct our test. Life got busy, and before long, it was time for everyone to move out of our apartment.
We gathered as many of the Unit 8 roommates (we've had 12 over the years) as possible, and prepared our test. The brands we collected included:
App State Campus Bottle Water (bottled in Deep Gap, NC)
Deer Park
Dasani
Aquafina
Smart Water
Nestle Pure Life
Great Value (Walmart)
Kirkland's (Costco)

Hawaiian Springs

Just Water (boxed water)
Pure & Pristine (TJ Maxx Glacier Water)
Food Lion
Fiji
Sam's Choice (Sam's Club)
365 Electrolyte Water
Cloninger Ford Water (Piedmont Springs)
Boone Tap Water
We gathered round in our living room on whatever chairs we could find (since most of the furniture was already gone). I had attempted to find lemon sorbet or those wine-tasting crackers as a palette-cleanser, but was not successful. Instead, we ended up with Publix-brand orange sherbet, which actually worked very well.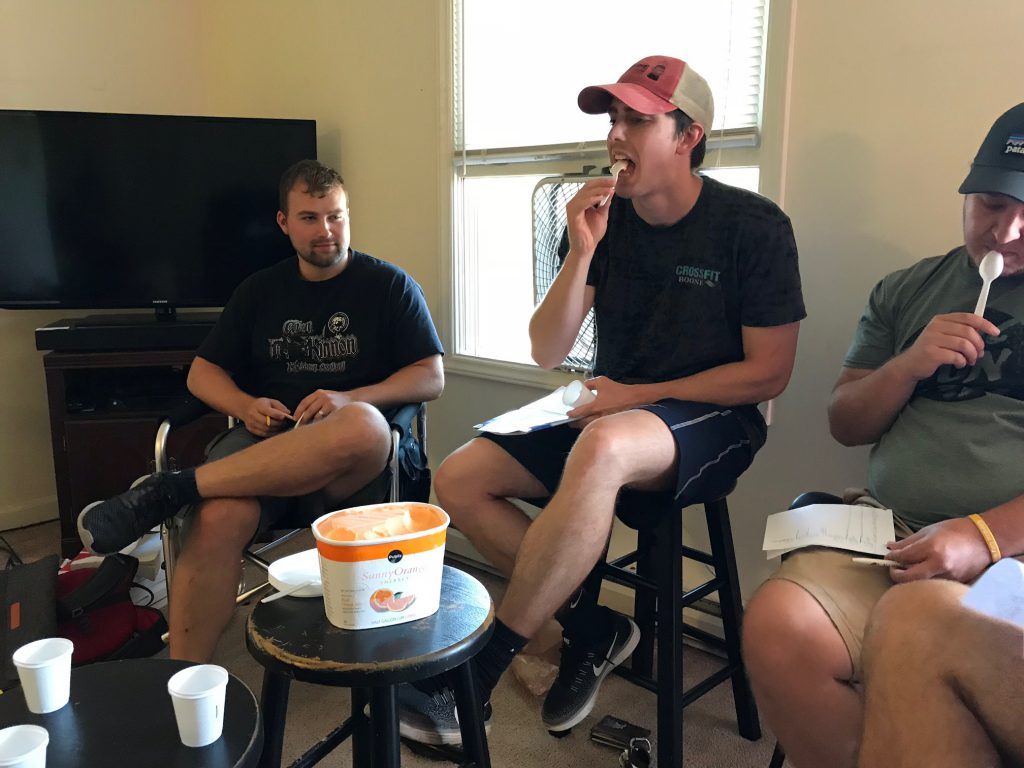 Our methods were as follows:
Cody's wife, Morgan, filled up identical small plastic cups, labeled 1-17, with samples of each type of water and Boone tap water.
Each type of water was at room temperature.
The judges–Isaac Church, Cody McKinney, Trevor Gragg, Alex Payne, and Charles Ashley "CJ" Hinshaw, Jr.–each recorded our responses on a sheet without knowing the marks of the other judges.
Before trying each water, we each took a small spoonful of orange sherbet to ensure that we removed all the previous tastes from our mouths and had a uniform starting point.
We rated each water 1-10 on three different points: Purity, Taste, and Overall Satisfaction.
I totaled the scores from all five participants and ranked each water based on the overall score from the five judges.
For those of you who don't get the accounting joke, I'm sorry. Moving on…
After some careful consideration, and lots of painstaking data entry, we came up with shockingly similar results for most of the waters. Our favorite was unanimous (and not really all that close), as were the least favorites. I'll let you read the results chart, and then I'll discuss the results.
Kirkland's (Niagara Bottling from Costco), was the clear favorite. Interestingly, the #2 result, Great Value (Walmart), is also Niagara Bottling. I was shocked that Boone Tap Water ranked so highly. Most of these results didn't surprise us, other than Smart Water ranking so poorly. No one was surprised that Deer Park and Nestle were terrible, and several of us were even able to identify then in our notes.
Who knows if this actually tells you anything, but I believe that it does because the results were so uniform. I didn't run any error/other statistical analysis on it, because frankly I don't care, so I'm just going to use my best judgment for determining the validity of the results. I know what type of water I'll be buying from now on, at least.
Thanks for reading! I'd love to hear your thoughts about water in the comments below. Until next time, farewell from "Unit 8 Rates". Who knows, we might do some more semi-pointless reviews in the future.
I would like to give a shoutout to Charlie Day and Nick Bonilla, who were not able to be present for the testing. You were with us in spirit.